Interest Rates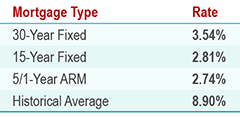 Interest rates decreased slightly from the month prior and remain at historically low levels. Mortgage rates have recently declined due to increased uncertainty surrounding the global economy prompted by the UK voting to leave the European Union.
Home Sales

The National Association of REALTORS® reported home sales at a seasonally adjusted annual rate of 5.5 million homes during the month of May. This was an increase of 1.8 percent from April, and an increase of 4.5 percent from May of last year.
Home Prices
The median home price reached a record $239,700 in May, which was up 3.8 percent from April and up 4.7 percent from May of last year. The median home price has increased by nearly $11,000 in the past year alone.
Inventory
There was a 4.7-month supply of housing inventory in May, which remained flat from April. The total number of homes for sale decreased by 7.8 percent compared to May of last year to 2.15 million homes nationwide, which was 130,000 fewer listings than May of last year.